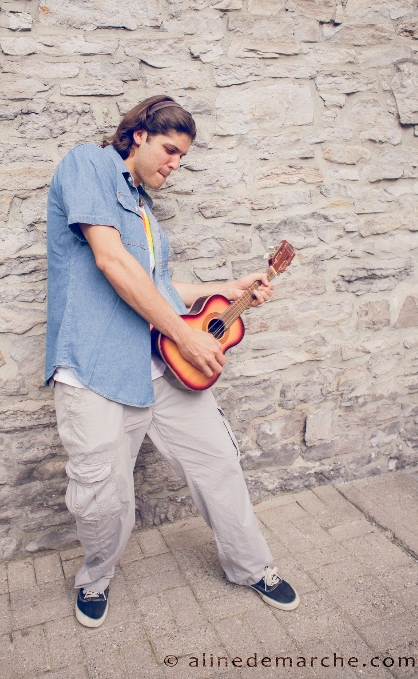 ​
Press Kit - Click here
​​
​
Singer, songwriter and guitarist, Rômmel Ribeiro was born into a family of accomplished artists in northern Brazil in the mid 1980's. He grew up surrounded by art and from a young age was inspired by the work of great Brazilian musicians as Gilberto Gil, Caetano Veloso, Alceu Valença, Chico César and Lenine.
​
In 2006, after releasing "Transcendental", his first album, he landed in Canada, where he crossed paths with the People Project Band and The SoulJazz Orchestra. It was the perfect opportunity for him to explore music in a multicultural background and to perform in meaningful events, such as Montreal and Ottawa's Jazz Festivals, Vive Latino, Ottawa Bluesfest and Toronto Global Groove.

​While honing his own style, Rômmel emerged with a mix of popular Brazilian music, afrobeat, reggae, funk, and jazz in his second album "Egológico Recycle". Created in collaboration with musicians from Ethiopia, Cameroon, France, and Brazil, this exotic disc unites compositions in French, Portuguese, and English. The high quality of his compositions, the ability to engender good partnerships, and his inspired performances resulted in several awards in Canada.



In 2010, he received the "Great Revelation" award at the Festival Nuits d'Afrique and the very first "Diversity Award", granted by the Arts Council of Montreal and other cultural organizations. In 2012, he was accepted in the Music Program of Carleton University and was also chosen as Radio Canada/CBC 2012-13 "Revelation on World Music". This last prize opened up new doors for him in the music scene and Rômmel had the honor of being the opening act for the concert of Gilberto Gil at the Festival International de Jazz de Montréal in 2012.

​​In 2015, the musician released his album "Nada Direito" and moved to England for an Exchange Program in Music at the University of Liverpool for one year. While in Europe, Rommel promoted "Nada Direito" through solo shows in the United Kingdom, Portugal, France, Holland, Belgium, and Germany.

​​Back to Canada in 2016, Rômmel finished his Bachelor of Music Degree at Carleton University. During summer 2017, the musician made a tour with his band in Canada – Ontario and Quebec Provinces – and went to studio to record "Caminho de Vento", an album that should be ready by June 2018.

​
​​​</>